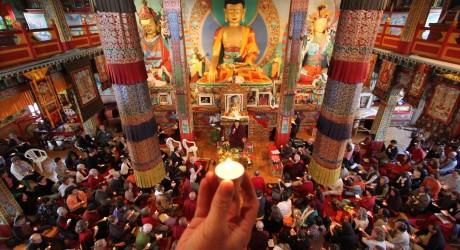 BY KALU · APRIL 26, 2011
My dear friends
I want to share with you the current news of the situation in Kagyu ling. Since this is my own web site, all students of previous Kalu Rinpoche that are connected to me are welcome, just as my new students, and i want to share the good news with all of you.
With the great blessing and support from Vajradara Kenting the Twelfth Tai Situpa, and the support of my dharma brothers and sisters, changes have been made and the re-organisation of the center has been started.
It felt like I washed our old clothes. Previous Kalu Rinpoche brought some clothes for you and I am the one who has to wash them now, because I like clean clothes, just like all of us… we all like clean clothes.
Since it is in my name, this is my centre, but really it is your centre because previous Kalu Rinpoche made the centre for you. Actually it is neither your centre nor mine, we just have responsibility to protect it until we can hand it over to the next generation of students when they become mature in the Dharma.
For that purpose, I have decided on a new team for Kagyu Ling, is my main centre and seat in France:
Superior of the congregation: Lama Trinlé (Daniel Gerrer).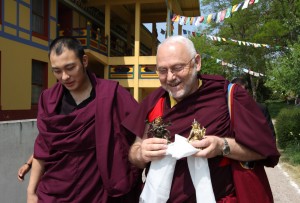 Lama Trinlé has been student of Kalu Rinpoche since 1974. He studied administration and then completed Three-year retreat in 1988. He is a fully ordained monk and has been lama of my centre in Brasilia, Brazil for the last five years where he helped establish and teach a Three-year retreat.
Director: Lama Lodrö (Thierry Truillet)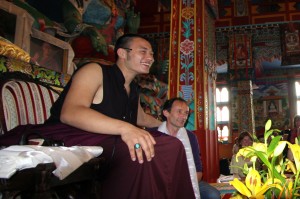 Lama Lodrö has been student of Kalu Rinpoché since 1979 and also completed Three-year retreat in 1988. He was lama of Kagyu Dzong, my center in Paris, for many years and for the last few years has been assisting with my center in Lille while completing his doctoral studies in cognitive psychology in Paris.
Treasurer: Lama Eric Gregis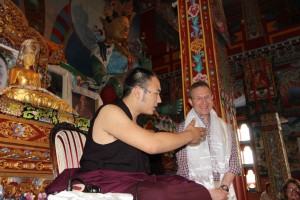 Lama Eric has been a student of Kalu Rinpoche since 1984 and was resident in Kagyu Ling for many years and completed his Three-year retreat here 1992. He then completed a second Three-year retreat in ascetic conditions in the mountains of the Jura. He is appreciated for his meditative experience, and humility.
It is easy to like people. In general I like everybody. But it is difficult to find people you can really trust. These three lamas I really trust; I can give you my word that they are completely trustworthy. As well the residents and office staff that will work with us have been carefully chosen by my own hand.
I am also happy to say that I have met with the founders of my centres in Nice and also Sukha Choling in the south of France who assured me of the loyalty of their centres. They join my centres in Lille, Marseille and Montpellier. I would like to express my love and gratitude to students of all of these centers.
Soon we will post a slide show from these days in Kagyu Ling.
from my heart…
extracted from http://www.paldenshangpa.net/2011/04/light-shines-again/