By Ian Mohr April 25, 2018 | 8:57pm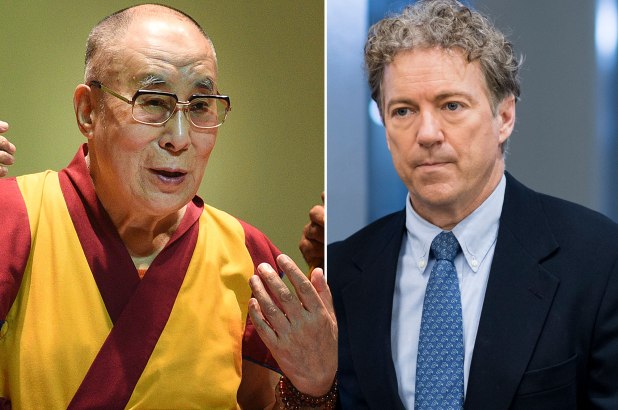 Sen. Rand Paul recalled an anecdote at the Time 100 gala about the Dalai Lama once hogging the men's room at the National Prayer Breakfast.
As the starry Time fête let out, Paul told Page Six that he and his wife enjoyed Time's Jazz at Lincoln Center celebration because of the venue's intimacy — as opposed to larger mega-events such as the White House Correspondents' Dinner, where one can't even get to a restroom without waiting on line.
"You've had eight cups of coffee," he quipped, recalling one Prayer Breakfast when a line for the men's room at the Washington Hilton grew to epic proportions because of the Tibetan leader. "They had to clear the whole men's room for him," Paul said, asking why the Dalai Lama would need the entire space.
"What's he doing in there, reincarnating himself?"
The Dalai Lama attended the National Prayer Breakfast in 2015, which was also attended by then-President Obama and hundreds of faith leaders.
Paul also told us he would not be attending the White House Correspondents' Dinner this year, which is being skipped by President Trump.
But the Kentucky pol noted that during the previous administration, he found Obama to be very funny.
Source: https://pagesix.com/2018/04/25/rand-paul-on-the-time-the-dali-lama-hogged-the-bathroom/