#LamaGate refers to the hacking scandal that surrounds the Dalai Lama's trip to the US in fall 2014. It centres around the Dalai Lama's most trusted US friend and confidant, Professor Robert Thurman, who allegedly tried to solicit members of Anonymous to engage in computer hacking on his behalf.
On 29th October 2014 Professor Thurman published a tweet (shown below) asking how to get the help of the Anonymous group to "get info out" about certain individuals he wished to target.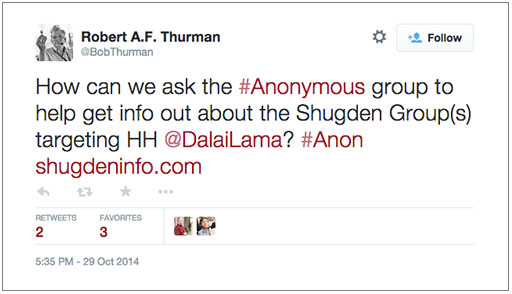 In and of itself this may seem like nothing more than a foolish and careless over-reaction on the part of Professor Thurman to the widespread media coverage the Shugden protests had been receiving. Yet when it was pointed out to him that such an action could be considered illegal in the US this didn't dissuade him from continuing down his chosen path of action.
In the following hours Thurman published a series of tweets identifying specific Twitter accounts to target. He identified each of them as, "key Anti HHDL Shugden Twitter Spam Accounts", and followed the account name with the tags #anon and #OpShugden.
#OpShugden was devised by another Twitter user (@OpTsampa) who appeared to be working alongside Thurman in his campaign. @OpTsampa also tweeted an offer of 50 BitCoins ($16,967) to anyone who could link the most accounts together that had been identified by Thurman.
Exactly what information Thurman wanted Anonymous members to "get out" of each of the identified accounts is uncertain, although it appears that he was trying to reveal the identities of the owners of the accounts. The only way to get this information would be to gain access to the users accounts without their consent, as such it appears that Thurman was soliciting computer hacking against each of the individually named Twitter accounts.
Why would Professor Thurman solicit hacking?
Throughout his fall tour of the US the Dalai Lama has faced an unprecedented level of media attention about allegations of human rights violations and religious discrimination, as anyone familiar with this site will know. Professor Thurman plays a key role in the dissemination of information against the protesters because of his academic standing and his close friendship with the Dalai Lama. They are so close in fact that the NY Times magazine referred to Thurman as, "the Dalai Lama's man in America".
Prior to 29th October, all of the Dalai Lama's attempts to avoid addressing the issues raised by the protesters had been unsuccessful with the US media. Everywhere the Dalai Lama spoke, protesters gathered and news agencies covered not just the protests, but the issues behind them (see here).
As the time drew closer for the Dalai Lama to appear in New York City, where Thurman is based, the pressure had been increasing on Thurman to do something to counteract the effect of the protests. Under such increasing pressure it appears that he may have taken the highly unusual step of soliciting computer hacking in an attempt to reduce some of the exposure they were getting on Twitter.
It seems that Thurman believed several Twitter accounts were run by one or two individuals, and that by hacking those accounts he would be able to silence them.
What happens now?
Presently the #Lamagate scandal is continuing to increase on a daily basis. On 30th October this website published a guide on how to indict Robert Thurman and on 31st October it ran an Indict-Storm on Twitter, calling for any users who felt violated by Professor Thurman's actions to report them to the authorities.
During 30th/31st October multiple reports were filed with the NYPD and the FBI asking for them to investigate the allegations against Thurman. Specifically they stated:
"It is alleged that Professor Robert A. Thurman (@BobThurman) did knowingly solicit others to commit computer hacking and provided information to direct said computer hacking against several users of Twitter in violation of Title 18, United States Code, Section 1030 (a) (2).
On October 29th 2014 it is alleged Professor Robert A. Thurman directed computer hackers associated with the 'Anonymous' group to hack Twitter's computer servers and extract information about the following users: @tompotter1945, @TalkingTibet, @wisdomdakini2, and @Vajralight.
I am making a formal complaint about alleged criminal activity by Professor Robert A. Thurman and asking you to investigate whether any criminal activity has taken place."
Despite this Professor Thurman continues to maintain a public list of Twitter users which he refers to as, "Known Spammers". Members of this list continue to report suspicious activity on their Twitter accounts.
Who is involved?
Given Professor Thurman's close relationship with the Dalai Lama it is highly likely that he may have known about this course of action. As the management of the Dalai Lama's visit is also conducted with the US Office of Tibet, now based in Washington DC, it is also highly likely that they were aware of Thurman's decision to try and recruit Anonymous.
Despite the high profile of this scandal both the US Office of Tibet and the Dalai Lama have so far remained silent, refusing to comment or even acknowledge its existence.
Likewise Columbia University, Professor Thurman's employers, have refused to acknowledge or comment on the scandal.
Fortunately the Anonymous group are less afraid of speaking publicly on this issue. On 2nd November they issued the following public statement about the scandal addressed principally to Professor Thurman:
".@BobThurman we have no position on this currently but can tell you one of Anon's only central principles is NYPA: Not Your Personal Army"
More to follow…
Source: http://www.arebuddhistsracist.com/lamagate.html