On October 28th 2014 respected scholar and author Robert Thurman decided to mention me on Twitter and make false and unsupported claims about me. He also tried to add me to a list which he promotes to followers of the Dalai Lama so they can send threatening and offensive tweets to its members. I responded by publishing an open letter to him on 29th October, but what I wasn't expecting was his vehement and extreme reaction.
Throughout the day there was no response from Professor Thurman, yet things suddenly changed as the evening arrived and he issued a tweet publicly asking for the help of Anonymous.
Screenshot taken at 18:00 EDT 29th Oct 2014
I was one of the people that Professor Thurman was wanting to target and unearth information about, including my identity. Whilst I have the greatest respect for the ethos of Anonymous, I have never been their focus, nor have I ever considered my work to warrant their focus.
I raised the issue of the legality of publishing such a tweet and the hasty reply from an account that Professor Thurman was working with in his new Anonymous campaign replied that it was just about re-tweets and whois searches.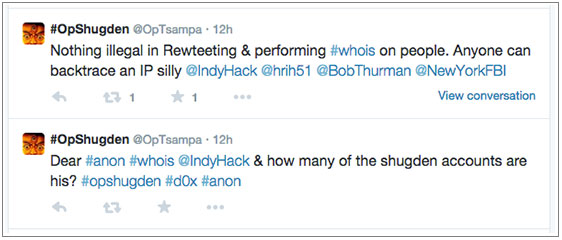 Screenshot taken at 07:44 EDT 30th Oct 2014
Of course re-tweets and whois searches are standard practices and certainly not in any way illegal. However the Anonymous group is not renowned for its use of whois, or its social media re-tweeting campaigns.
As @OpTsampa says, "Anyone can backtrace an IP". So why would they be asking for the help of Anonymous if they only wanted to back-trace IPs and conduct whois searches?
Anonymous is well known as a collective of hackers who engage in electronic civil disobedience (ECD). You don't ask for the help of Anonymous for re-tweets, you ask for their help for one thing – hacking, which is a federal crime in the US.
Asking for the help of Anonymous is fairly easy on Twitter, you just publish a tweet and insert the call sign "#anon". Both @OpTsampa and Professor Thurman then engaged in a campaign of publishing tweets identifying Twitter users and encouraging Anonymous members to target them.

Screenshot taken at 07:45 EDT 30th Oct 2014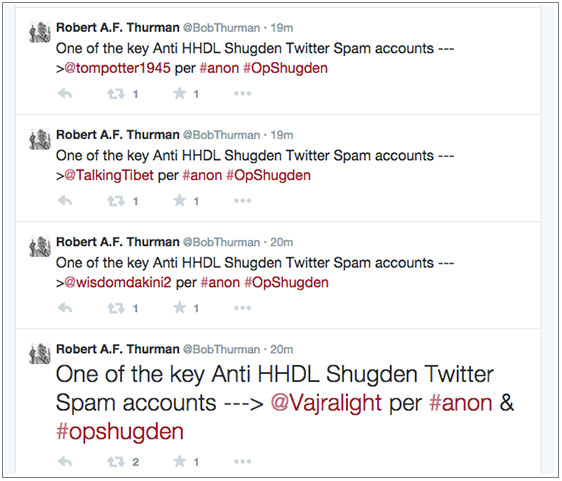 Screenshot taken at 21:36 EDT 29th Oct 2014
If you thought this was maybe a bit of harmless fun from Professor Thurman and his accomplice the next tweet may surprise you.

Screenshot taken at 07:44 EDT 30th Oct 2014
For those unfamiliar with the Bit Coin currency it's a virtual currency which enables transactions to be carried out completely anonymously. It is often used when paying for services which are illegal, such as hacking. The value of 50 Bit Coins at the time this tweet was published was $16,967.00.
Offering hackers just under $17,000 to target people on Twitter is not harmless fun. It is a very serious financial offer, and a US federal crime. As this statement from the US Attorneys Office in April 2014 makes clear in the case of Fidel Salinas.
Whilst Salinas was accused of engaging in hacking, it is a criminal offence to solicit federal criminal acts and you can be an accessory to the crimes if you are found to have encouraged or instigated them.
On October 29th 2014 it would appear quite clearly that @OpTsampa and Professor Robert Thurman were not only accomplices in cyber crime, but that they actively engaged in soliciting cyber crime, as defined by the FBI.
The question is why would a Professor at Columbia University in New York, the co-founder and president of Tibet House US, and father of Hollywood star Uma Thurman, be so desperate as to break federal law?
Maybe it was never intended as an attempt to solicit hacking? If so then why did Anonymous themselves issue a formal response through their official Twitter account?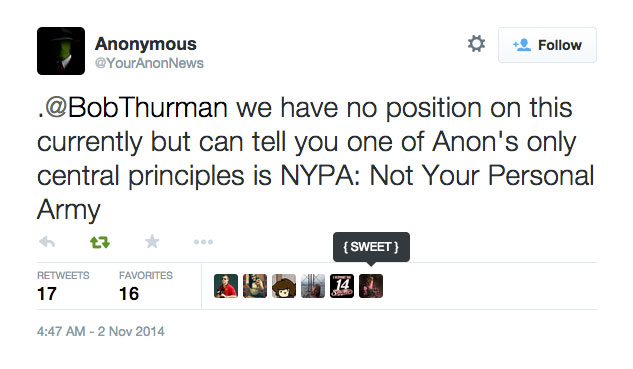 If there is nothing to hide, if the allegations of religious discrimination and human rights violations by the Dalai Lama are unfounded, then why would an eminent professor ask for Anonymous to help?
Why not simply debate the issue and show evidence that refutes or counters the claims?
At the present moment I am taking legal advice regarding filing a complaint with the Internet Crime Complaint Centre (IC3) of the FBI so that they can further investigate Professor Thurman's role in soliciting cyber crime.
I will keep you posted with updates as this case develops.
*****UPDATE*****
14:30 – 30th October 2014
After having taken legal advice I am in the process of drafting a formal complaint for investigation by the FBI. I am awaiting the FBI's decision whether it is best to submit the formal complaint through their New York field office, or through IC3.
As the alleged offenses occurred over the Twitter platform it is likely to be an inter-state matter placing it within federal jurisdiction.
I am advised that Professor Thurman is currently aware that he is one of the subjects named in my formal complaint.
More to follow.
***Further Update***
As this is now an ongoing criminal investigation I am unable to add further comments.
Source: http://www.arebuddhistsracist.com/robert_thurman_anonymous.html