by Tahlia Newland
This is part one of a three part series on the social context for the allegations of abuse by Tibetan Buddhist teacher Sogyal Rinpoche.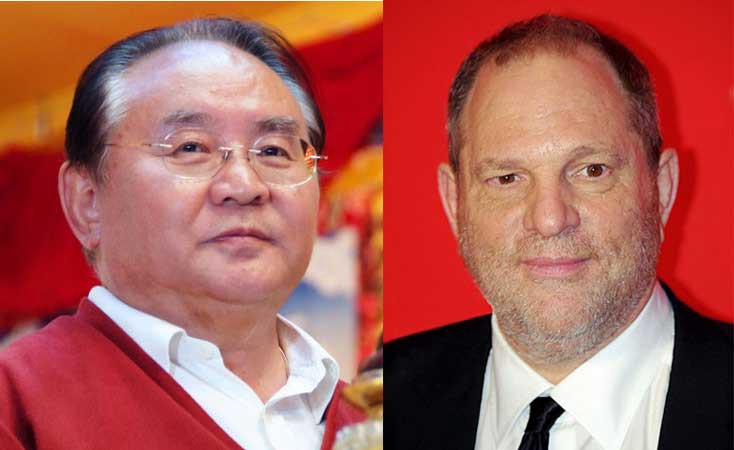 Early in October Hollywood movie producer Harvey Weinstein made big news after a New York Times investigation uncovered allegations of sexual abuse of women going back decades. What followed was a series of events, revelations, confessions, and statements of support for victims and for ending the silence around abuse.
In July 2017, 8 close students of Sogyal Rinpoche sent a letter to him, a large number of his students and several other Tibetan Buddhist Teachers including the Dalai Lama outlining the emotional, physical and sexual abuse they had either experienced or witnessed at his hands. What followed was the creation of the What Now? blog and Facebook group to support the thousands of students shocked by the revelations, reactions that ranged from complete disgust to outright denial or support for his actions, and infighting amongst students with different views on the appropriateness of the conduct. The scandal emerged into the Buddhist press, but at the time of writing has not entered the mainstream press.
The reactions to the Weinstein scandal, and other recent revelations of sexual abuse by men in positions of power, shows just how important freedom from abuse in all its forms is to the Western world and why, for the future of Tibetan Buddhism in the West, Sogyal Rinpoche's organisation Rigpa must go further than just instituting a code of conduct and look deeply at the causes and beliefs that allowed this to happen and make the kind of changes needed to ensure that abuse never happens in any Tibetan Buddhist community again.
If Sogyal Rinpoche's disgrace makes the New York Times, what will those who commented on the Weinstein case think about how Sogyal Rinpoche and Rigpa have handled the fall out of their own scandal? The comparison between Sogyal Rinpoche and Rigpa and the Weinstein case and how his company dealt with it is telling and to some of his students even embarrassing.
(Note that these are only allegations of abuse, and in Sogyal Rinpoche's case although the 8 students stated that they all witnessed the same kind of things, nothing has been legally proven.)
Apology
As soon as the news broke, in a statement to the Times on October the 5th, Harvey apologised, saying, "I appreciate the way I have behaved in the past has caused a lot of pain, and I sincerely apologise for it. Though I'm trying to do better, I know I have a long way to go." He went onto say that he was working with a therapist and planned to take a leave of absence.
Sogyal, however, took six days to respond and did not apologise. In fact his words were more a defence than an apology, dwelling on the good he has done and his lack of harmful intent.
"I have spent my whole life trying my best to serve the Buddhadharma, to bring these teachings to the West, and not a day goes by when I am not thinking about the welfare of my students, holding them in my heart, and feeling concern and responsibility for their spiritual path. It's clear now, though, that a number of people do feel very disappointed and hurt, and are looking for answers and changes. Please know that I take this very seriously and I will not ignore it. I am clear in my own mind that I have never, ever, acted towards anyone with a motive of selfish gain or harmful intent. This is unthinkable for me."
Not only does he not realise that his behaviour has caused pain (only that a number of people feel disappointed and hurt) but also he virtually denied causing harm by saying that he has "never, ever, acted towards anyone with a motive of selfish gain or harmful intent." Having no harmful intent is not the same as taking responsibility for the fact that people have found his actions harmful and apologising for those actions.
That lack of apology has poisoned Sogyal and Rigpa's attempts to manage the situation effectively. Denial does not form a basis for healing. Attempts at healing while denying harm is like stitching up a wound without treating the infection beneath the surface.
Sogyal also said he would take time off, in retreat, but instead of talking to a therapist he said, "I am seeking advice from masters who have a genuine care and concern for Rigpa." Considering that the attestations in the letter from the 8 students paint a picture of a man out of control and the medieval opinions expressed by some of these lamas, a therapist would probably have been a healthier choice.
A history of cover ups
When confronted with allegations "stretching over three decades" the NYT says, "Weinstein has reached settlements with at least eight women."
Likewise, "in November 1994, a $10 million civil lawsuit was filed against Sogyal Rinpoche and Rigpa by an anonymous plaintiff, who was given the name "Janice Doe" to protect her identity. The complaint alleged infliction of emotional distress, breach of fiduciary duty, and assault and battery. Sogyal Rinpoche avoided service of the charges by not publicly entering the U. S. and thus was never deposed. The lawsuit was settled out of court through mediation."
In this instance, Rigpa and Sogyal has behaved in a very worldly way, paying off complainants to keep them quiet.
In 2011 "the Canadian company Cogent/Benger produced a television documentary with new allegations of abuse against Sogyal Rinopche called "In the Name of Enlightenment." It aired on Vision TV in Canada.
"The documentary centers around the experience of a beautiful young woman named Mimi, during her 3-year period as a personal assistant to Sogyal Rinpoche. Mimi alleges physical and sexual abuse of both herself and other young women in the "inner circle." It also revealed complaints made by Victoria Barlow. [ref. http://howdidithappen.org/history-abuse-allegations-rigpa/ ]
Rigpa's response was to employ a PR firm to advise them. They released a statement that spoke of all Sogyal Rinpoche's good work and then said, "We have only ever seen him act for the benefit of other people, and with their best interests at heart. Nonetheless any allegations of inappropriate behaviour are taken very seriously by the organization."
Despite this, the abuse apparently continued with further revelations of emotional and physical abuse occuring in 2016.
Code of silence
"Dozens of Mr Weinstein's current and former employees from assistants to top executives, said they knew of inappropriate conduct while they worked for him. Only a handful said they ever confronted him. Weinstein enforced a code of silence. Employees of Weinstein Company have contracts saying that they will not criticise it or leadership in a way that would harm their 'business reputation' or any employees 'personal reputation.'" [ref. https://www.nytimes.com/2017/10/05/us/harvey-weinstein-harassment-allegations.html]
In the same way, according to the attestations many in Rigpa management have been aware of the emotional, physical and sexual abuse for years. But in Rigpa's case, anyone who raised concerns were disregarded and when further information came to light with Mimi's story in 2011, special sessions were held for intstructors telling them what to say to students who asked questions. In the session we were told by the senior instructor (someone close to Sogyal Rinpoche) that they 'believed' that Sogyal Rinpoche had not harmed anyone. She also used words designed to discredit and belittle those who had appeared in the film, and actively encouraged students not to look at online sources or give any credence to the claims.
Rigpa also has a code of silence. It's a literal interpretation of 8th Century teachings on samaya that say that one should not criticise one's teacher for fear of going to hell. And yet HH Dalai Lama made it quite clear in Dharamsala in 1993 that in situations of abuse, students should speak out to avoid continuing harm to students and damage to the integrity of the Buddhism. Sogyal and Rigpa's adherence to this fear-mongering interpretation of the teachings on samaya (the sacred bond between a teacher and student) acts like a gag, keeping students quiet and compliant. In Rigpa's case, being a belief system students are expected to adhere to rather than a contract, it meets one of the criteria for cult-behaviour — complete obedience is demanded and dissent and criticism are not permitted.
Resignations
The actions of the Weinstein board members compares to those of Rigpa's upper level students and "holders" of the group.
On the 6th of October, just a day after the news broke one third of the Weinstein Company board resigned, and the four who remained announced that they had employed an outside law firm to investigate the allegations and that Weinstein would take a leave of absence. Two days later, they fired Weinstein. Weinstein's advisor also resigned. On October the 15th a fifth board member resigned.
In comparison, those at the top of the Rigpa International management hierarchy remain the same as it has been for the decades.
On the 11th of August, nearly a month after the letter attesting to abuse came out, Sogyal Rinpoche resigned.
The glaring issue is that those at the top of Rigpa Management, those who knew of the abuse and covered it up for years, have still not resigned, instead, they are steering Rigpa through this minefield of public opinion using the same tactics as previously: make some token gestures, ignore criticism, carry on as usual, build up the good, and wait out the storm.
Investigation
Just one day after the information of abuse emerged, four members of the Weinstein Board hired a law firm for an investigation and gave a public statement: "We have retained an independent and leading lawyer and firm, John Kiernan of Debevoise & Plimpton LLP, to undertake a thorough and independent investigation and report to the full Board on the results of that investigation."
It took the Rigpa management one month to announce that they would undertake an independent investigation, and four months later, they have yet to announce who will be doing their investigation. Rigpa is taking months to do what the Weinstein Company did in days. This gives them time to 'cover their tracks' should they feel they need to.
Code of Conduct
Rigpa management announced that they would institute a code of conduct. The Film Academy announced the same thing, not the Weinstein company itself. However the Film Academy's initiative came from their recognition of the culture in the film industry that supports sexual abuse, whereas the Rigpa workshops designed to give students some input into the development of this code are not looking further than how students feel. They are not examining the beliefs that are at the root of the enabling culture.
How does Rigpa compare?
There are similarities in the cover up of decades of abuse, the announcement of an investigation, the resignation of the leaders, and in the culture that fostered the abuse, notably a culture enforcing silence and offering rewards for 'close contact', and I'll go deeper into this in the next part of this series.
The difference in situation is that Sogyal has also been accused of emotional and physical abuse as well as sexual, which makes it a more widespread issue in the community, involving men as well as women and the more subtle areas of emotional abuse. Rigpa's business, of course, is spiritual rather than worldly, but that leads to expectations that they would behave more ethically and more definitively than a company making movies, not less as seems to be the case.
The differences in responses are that Sogyal and Rigpa have given no apologies, no one in upper management has resigned, and they have been slow to begin initiatives, respond to concerns and communicate with interested parties.
The Weinstein Company seem to be taking the situation a great deal more seriously and are much more aware of social expectations and the ethics involved. In terms of response, which I'll be looking at in part 3, no one is suggesting that Weinstein's behaviour is acceptable, and yet some Tibetan Buddhist Teachers have blamed those who spoke out for breaking their 'samaya', making no comment on the inappropriatness of the alleged behaviour, and one even said that the behaviour outlined in the letter was not a problem and that "Beating increases wisdom."
Source: https://medium.com/@tahlianewland/harvey-weinstein-and-sogyal-rinpoche-a-study-of-responses-part-1-management-f7413d904c0b